New product coming out----LET'S ROLL
Views: 133 Update date: Mar 27,2023
New product coming out---Let's Roll
Guangzhou, China---27March,2023
Bravo Amusement entertaining new game-Let's Roll, is now officially coming out.
Let's Roll Redemption Machine!
A brand new version of the pull&release Ball game - Let's Roll now is officially released by Bravo Amusement! Can you find any difference from the previous two-person version?
Let's Roll has fully updated the design style, the simple but unique red and blue color combination makes the machine instantly recognizable in any location!
The fully transparent glass cabinet, longer ball rolling fairway, single player position adjustment, same gameplay but lower machine cost.
The eye-catching laser lights are retained, ensuring that Let's Roll is still the most eye-catching machine!
Let's Roll is 2'8'' (810mm)Wide, 7'2'' (2191mm)Deep, and 7'9'' (2379mm)Tall.
Let's Roll is a mechanical redemption game that is skillful, but also super fun and has awesome rewards!
Pull the lever back, and then launch a big ball down the ramp, towards one of the targets separated by plastic stoppers.
You'll win tickets where the ball lands!
Land the ball at target number 33, and you'll win double tickets for the next ball, and you can now challenge the Jackpot!
You only get 1 shot to land the ball in the Jackpot.
A light will instantly be lit up each time you successfully land the ball in the Jackpot!
If all 4 lights are lit, you'll win the "Super Bonus"!
With its unique full glass cabinet design, 100% skillful gameplay, and exciting bonus mechanism, Let's Roll is perfect for some quick, competitive fun. It will be a great earner for your game room.
Contact the Bravo Amusement Team for more information!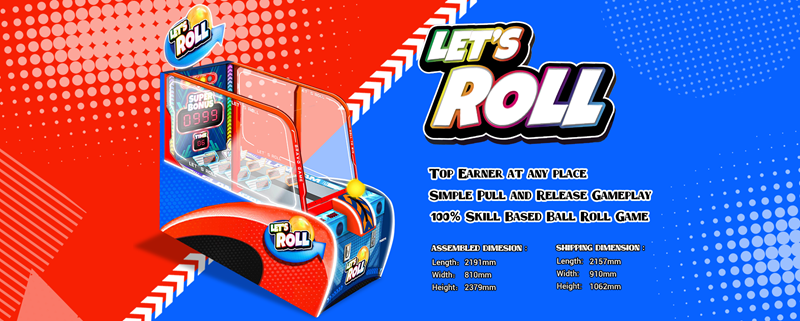 Prev News:What is a redemption machine?
Next News:How much money can I make owning a vending game machine?