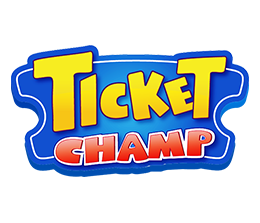 It's been quite a while since the industry has seen such a great
coin operated Ball Toss arcade game and BRAVO has designed
this phenomenal new Ball Toss arcade game machine!
The Ticket Champ Arcade Game is one of the most unique and
interactive skill arcade games around! The game's play-field is
100% interactive with 9 fixed "Ticket Roll" targets in which the
player's skill/accuracy in throwing is definitely tested!

Ticket Champ also includes 3 different size scoring holes for
each skill level, so everyone from beginners to pro players
can be challenged! Play to achieve the "Super Bonus" award.
Please note that the Smaller Ticket Roll can win more Points!

The all-time favorite classic Carnival/FEC Ball Toss game has
now been transformed into a neat ticket redemption game!
Ticket Champ, Arcade was specifically designed to allow 1 or
2 players (in twin configuration) in order to play at the same
time, and encourage 'family play".


Players toss balls at the different-sized Ticket Roll for points.
Hit the Smaller Ticket Roll target continuously to get a higher
score adds bonus points, as the players attempt to hit smaller
ticket rolls to win Super Bonus.
Feature:
* Fun, Simple, 100% Skill FEC-Style Gameplay
* New Ball-Toss Game with Ticket Roll Design
* Colorful Eye-Catching Ticket-Theme Cabinet Artwork
* Easy Play Game - Appeals To All Ages and Abilities
* Adjustable Ticket Payouts + "MEGA BONUS" Ticket Jackpot
Specification:
* Size:(mm)2420*1060*290
* Power:160W
* Weight:220KG
Inquiry Now
Can't find the specific information you're looking for? Have a question ? Contact Us
Related Products