New tickets redemption machine coming out---Planet Roll
Views: 1242 Update date: Sep 22,2021
New product coming out---Planet Roll
Guangzhou, China---22September,2021
Bravo Amusement entertaining new game-Planet Roll, is now officially coming out.
Planet Roll Redemption Machine!
Planet Roll is a brand new tickets redemption machine.
Planet Roll features a deluxe Spaceship cabinet with an alien planet theme,sci-fi music, a large, custom LED lit planet-shaped marquee with UFO and alien elements. It'll definitely impress at any location!
The laser light feature, makes this a flashing game that will grab even more attention!
Planet Roll is a mechanical redemption game that is skillful, but also super fun and has awesome rewards!
Pull the lever back, and then launch a big ball down the ramp, towards one of the targets separated by plastic stoppers.
You'll win tickets where the ball lands!
Land the ball at target number 66, and you'll win double the amount of tickets for the next ball, and can now challenge the Jackpot!
You only get 1 shot to land the ball in the Jackpot.
A light will instantly be lit up each time you successfully land the ball in the Jackpot!
If all 4 lights are lit, you'll win the "Super Bonus"!
With its unique, 2 player cabinet design, 100% skillful gameplay, and exciting bonus mechanism, Planet Roll Game is perfect for some quick, competitive fun. It will be a great earner for your game room.
That's how it works. Don't wait another minute to start something new

amusement game

!
For complete information and videos, search

Planet Roll

on our website or contact us directly!
Bravo Amusement always is your reliable amusement machine supplier from China.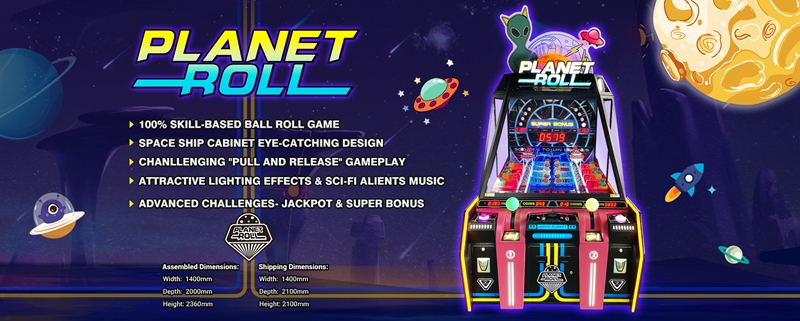 Prev News:Quotes of Prize Games from Netherlands and Poland
Next News:Quotes of Redemption Game Machines from Clients