New tickets redemption machine coming out---Woodpecker II
Views: 1050 Update date: Aug 23,2021
New product coming out---Woodpecker II
Guangzhou, China---23August,2021
Bravo Amusement entertaining new game-Woodpecker II, is now officially coming out.
Woodpecker II
Redemption Machine!
Since we launched the Woodpecker

redemption machine

, its unique woodpecker style design and novel gameplay have been favored by customers. As time progresses and customer feedback, we have launched a brand new Woodpecker II generation based on today's Family Entertainment Center and Player needs.
In addition to maintaining the original appearance and gameplay of the Woodpecker redemption machine, we have added the Jackpot mode and the Extra Game Opportunity mode, which completely improves the machine's game challenge and high revenue!
Quick reactions, timing, and Luck are the key to winning more tickets!
Move the handle left and right, aim and push the button to peck the bug that's the fast-moving & LIT UP.
Whenever you peck a bug, you will win a Light at the Score Panel. The more bugs you peck, The MORE CHANCES OF LIGHTING UP THAT AREA!
When the time is over, the flashing light spins rapidly and stops randomly at the Score Panel, The score covered is the number of tickets you can win!
So what about the lucky part?
If the light covers the APPLE, you instantly win a chance to continue the game with one more credit; Oh, by the way, all the lights you won will remain on the next game and players can win more tickets.
If the light covers the WOODPECKER, You'll light up one icon. Collect & light up All 5 Woodpecker Icons to win the JACKPOT!
The newly added Jackpot drives the machine more replay value. The high Tickets attract all players and encourage players to repeat the challenge.
The new added Extra Game Opportunities make the machine more challenging. Winning more tickets will make the player immersed in the exciting game experience.
That's how it works. Don't wait another minute to start something new

amusement game

!
For complete information and videos, search

Woodpecker II

on our website or contact us directly!
Bravo Amusement always is your reliable amusement machine supplier from China.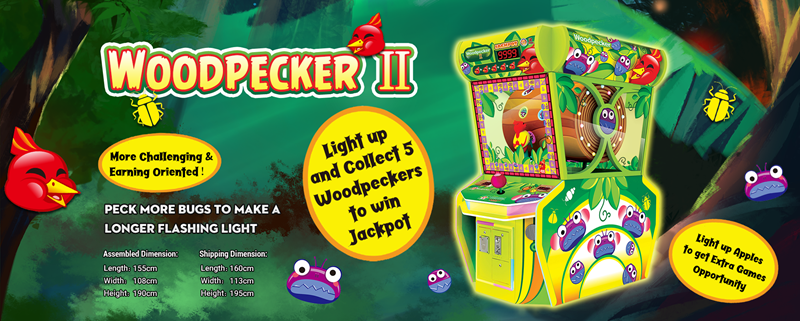 Prev News:Quotes of Redemption Game Machines from Clients
Next News:Quotations of Sports Games Machine from Clients