New Prize Game coming out--- Crazy Football
Views: 1292 Update date: Nov 03,2020
New product coming out--- Crazy Football
Guangzhou, China---03Nov,2020
Bravo Amusement entertaining new game-Crazy Football, is now officially coming out.
Crazy Football is a
Prize Games
with brand new gameplay based on

Bravo Bounce

. It not only preserves the traditional gift machine vending model but also incorporates the challenging drop ball game
There are a total of 9 scoring holes in the game. Players need to drop the ball into each hole. At that time, there were many obstacles on the way into the hole. The random route brought uncertain challenges to the game.
When the game starts, the player first chooses the gift. When the gift is determined, the target of the game is determined. The player only needs to ensure that the number of goals is consistent with the target to win the prize. Merchants can set a target based on the value of the prize.
If two balls fall into the same hole---GAME OVER. But if the player's goal is only one goal away from the target, wouldn't it be a pity? So this game has a challenge mode. When the number of goals scored by the player differs from the target by 1 goal and the game is ready to end, the player can continue to coin to initiate the challenge mode, giving an extra chance to win the prize!!!!
That's how it works. Don't wait another minute to start something new!
For complete information and videos, search Crazy Football on our website or contact us directly!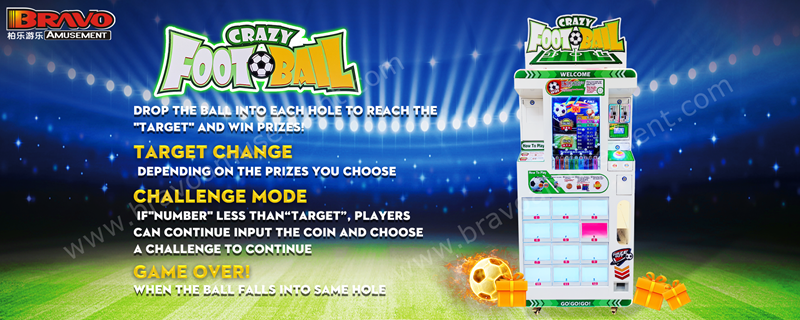 Prev News:New Redemption Machine coming out--- Indiana Jones
Next News:Inquiry of Crane Machines from United States Clients