New Redemption Machine coming out--- Indiana Jones
Views: 1506 Update date: Nov 03,2020
New product coming out--- Indiana Jones
Guangzhou, China---28Oct,2020
Bravo Amusement entertaining new game-Indiana Jones, is now officially coming out.
Indiana Jones

Redemption Machines

!
Indiana Jones is a brand new pinball lottery game machine. The machine is based on Indiana's adventure and treasure hunting as the theme. Players finally win the SuperJackpot chest by obtaining different items!
There are 9 scoring holes in the game, and each hole represents a different treasure. When the time starts, players can challenge for Special Bonus, and the machine will randomly light up 3 treasures. If the player's first 3 balls can enter the lighted treasure hole, they can win Special Bonus. If the player can continuously enter the ball into 9 holes, they can get Super Jackpot. Once the ball repeatedly enters the same hole, the game is over!
But when the player only played the eighth hole and lost the game, didn't that miss Super Jackpot? Don't worry, the machine has a revive button that excites the player. Just throw one more coin to enter the revive mode. Players will have an extra ball to continue to challenge Super Jackpot!
That's how it works. Don't wait another minute to start something new!
For complete information and videos, search Indiana Jones on our website or contact us directly!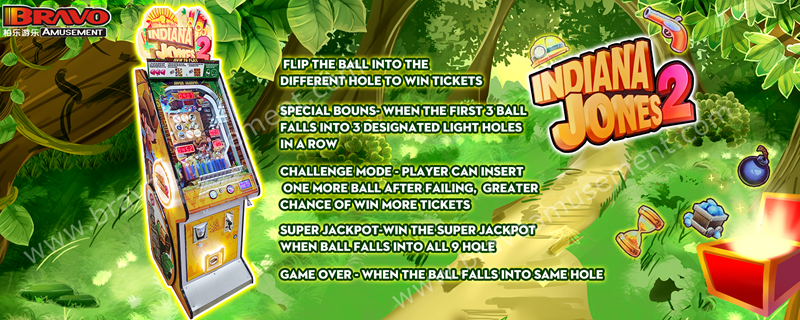 Prev News:Goodbye 2020, Hello 2021
Next News:New Prize Game coming out--- Crazy Football