New tickets redemption machine coming out---Key Moment
Views: 1155 Update date: Jun 01,2021
New product coming out--- Key Moment
Guangzhou, China---01June,2021
Bravo Amusement entertaining new game-Key Moment, is now officially coming out.
Key Moment
Redemption Machine
!
Key Moment is a new pinball lottery arcade machine based on Indiana Jones. The machine is based on Car Racing and Win Cup as the theme.
Players finally win the SuperJackpot once they obtaining all 9 Cups!
There are 9 Winning Cups in the game, and each cups represents a different game leve-The higher the level, the more tickets you win.
When the time starts, players can challenge for Special Bonus, and the machine will randomly light up 3 Cups. If the player's any 3 balls can enter the lighted Cup hole, they can win Special Bonus.
If the player can continuously enter the ball into 9 Cups holes, they can get Super Bonus. Once the ball repeatedly enters the same hole, the game is over!
But when the player only played the eighth hole and lost the game, didn't that miss Super Bonus?
Don't worry, the machine has a revive button that excites the player. Just throw one more coin to enter the revive mode. Players will have an extra ball to continue to challenge Super Bounus!
That's how it works. Don't wait another minute to start something new

amusement game

!
For complete information and videos, search Key Moment on our website or contact us directly!
Bravo Amusement always is your reliable amusement machine supplier from China.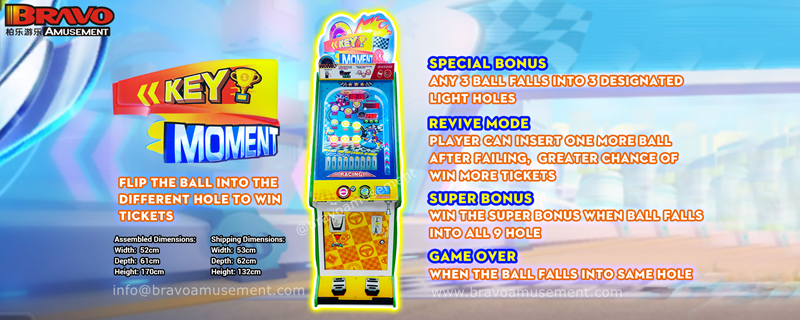 Prev News:Quotations of Sports Games Machine from Clients
Next News:Quotes of Kids Games from Greece Clients