New tickets redemption machine coming out---Soccer Fever
Views: 490 Update date: Jun 12,2021
New product coming out---Soccer Fever
Guangzhou, China---12June,2021
Bravo Amusement entertaining new game-Soccer Fever, is now officially coming out.
Soccer Fever Redemption Machine!
Soccer Fever is a brand new tickets redemption machine.
Soccer Fever features an attractive cabinet with LED lights that stands out in any arcades. Players must be excited for this Soccer-themed
quick coin game. It's simple gameplay with shoot coin to goal and win corresponding tickets. Importantly, it also has two other layers of gameplay that allow players to win more tickets.
Party Time-Players can light up "G-O-A-L" to win more tickets, once it reaches 3 times.
Then the player can enter Party Time, where the player has an unlimited number of free shots, and all the scores during this period belong to your tickets.
Super Bonus-Players can manage to score the goal right in the middle, then you can play the wheel of fortune game before progressing in another 3 ticket levels.
The ball will be lighted up if the arrow of the wheel lands on the ball graphics and once you light up all 4 balls you'll instantly win the super bonus jackpot!
Does it sound easy? Of course no, a steady and fast-rolling track will cause your coins to change direction irregularly, and likely that your coins won't goal in the hole you want.
So once the player enters the game, then they will be addicted to it, and don't stop until the goal is reached.
And Soccer Fever comes standard as the two-player station with a marquee, which will surely boost your earnings! According to our test results in family entertainment centers, a machine can earn 60,000+ game coins a month. What a revenue tool!
That's how it works.
Don't wait another minute to start something new

amusement game

!
For complete information and videos, search Soccer Fever on our website or contact us directly!Bravo Amusement always is your reliable amusement machine supplier from China.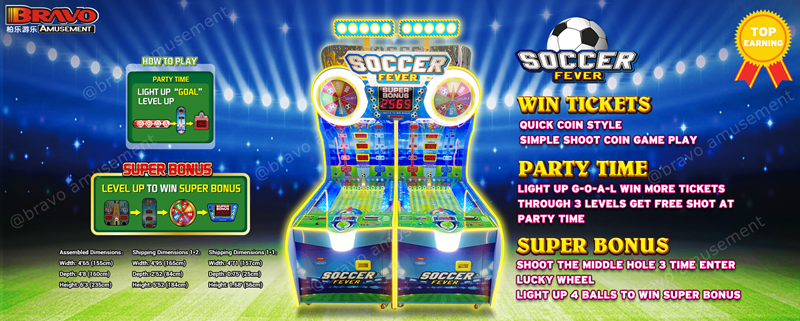 Prev News:Quotations of Sports Games Machine from Clients
Next News:New tickets redemption machine coming out---Key Moment