New entertaining game coming out---Happy All Round Clown
Views: 1164 Update date: Apr 20,2020
Guangzhou, China---20April, 2020
Bravo Amusement entertaining new game Happy All Round Clown, is now officially coming out.
The automatic launcher shoots balls out, and the player needs to hit the 4 different targets to drop the clown into the final hole and win tickets!
The movement of the clown greatly increases the difficulty of the game, is the player to repeat the challenge.
Fun clown-themed engages and encourages players of all ages! Play solo or challenge your family and friends who can win more tickets!!!
Don't wait another minute to start something new.
To play the game, players simply shoot the ball up from the bottom to the top by pushing the button at the right moment.
Tickets are rewarded on each stage where the ball lands.
The ball jumps through 4 stages to get to the bonus wheel challenge.
Skilled players can aim for larger value on the wheel to win for the most tickets!
That's how it works. Don't wait another minute to start something new!
For complete information and videos, search Happy All Round Clown on our website or contact us directly!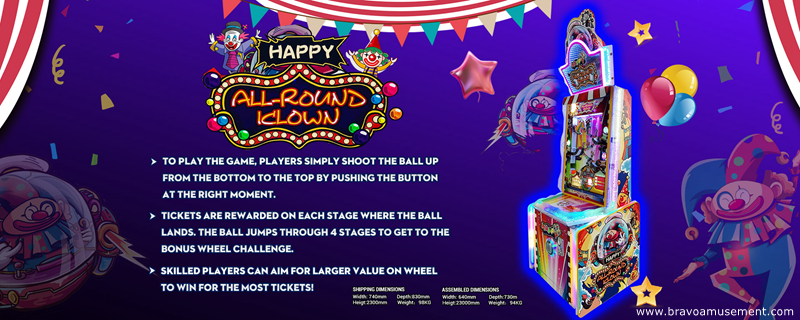 Prev News:Tools necessary for resumption of business----Intelligent Ultrasonic Spray Disinfection Machine
Next News:New prize vending game coming out----Bravo Bounce