New redemption game coming out----Baby Boxing
Views: 1103 Update date: Jun 29,2020
New product coming out--- Baby Boxing
Guangzhou, China---29June,2019
Bravo Amusement entertaining new game-Baby Boxing, is now officially coming out.
Baby Boxing

Kids Game Machine

---the latest sports game specifically designed
for younger game players that bring great fun & excitement!
Baby Boxing is a fun punching bag

redemption game

that comes in different models
suitable for kids, teens, and specifically designed for NO strength in the hits required to score.
And is a new choice child/teen boxing game in the market today, and is very
different from all other "strength-based" boxing and punching arcade games.
There are two game modes play for Baby Boxing. Players can either challenge high scores on their own or compete with friends!
Fun Mode:
The more boxing targets a player hits in a given amount of time, the higher the score and the tickets. If break the setting score, you win the JACKPOT !!!
Three targets are placed directly in front of the player and LCD Screen on above shows the current score, and getting a high score is all about the child's speed, coordination, and concentration, but not about the strength of the hits.
Competition Mode:
Two players battle, the player has 3 times the opportunity to punch respectively, strength decided the score. The one with the highest total of 3 punches wins!
Traditional and classic boxing game mode, let children and teens enjoy the joy of competition!
Play solo or challenge your family and little friends who can win more tickets!
Perfect sports arcade ticket redemption piece for the younger game player !!!
That's how it works. Don't wait another minute to start something new!
For complete information and videos, search Baby Boxing on our website or contact us directly!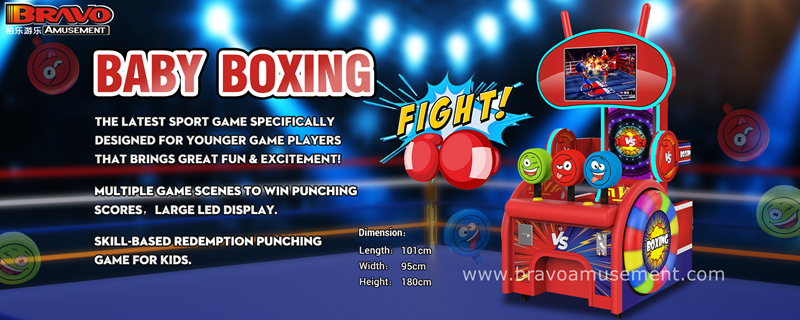 Prev News:Bravo Amusement at the 2020 Asia Amusement & Attractions Expo held in Guangzhou
Next News:Tools necessary for resumption of business----Intelligent Ultrasonic Spray Disinfection Machine